This past week was Northside Festival. A week long festival in the heart of Williamsburg , BK. Think SXSW Brooklyn style. There's innovation events, panels, speakers , workshops , concerts, music , film, networking, food and fun.
This year they added in a Block Fest for a 5 block stretch on Bedford Ave. With varying neighborhood participants and sponsors. Bars and restaurants offered specials, frozen to go drinks, solo cups of beer or lemonade, jewelry stores designed custom free pieces, car2go had a 360 photo booth, non profits advocated for their programs and stances, live performances, games, water balloons and water guns. But our favorite was Sweet Chick's set up with a DJ spinning all throwbacks and a surprise performance by none other than MOBB DEEP!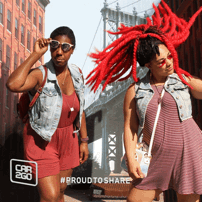 We at CVG especially loved the atmosphere and the vibe it generated and created. It was a good representation on how gentrification should be. Young creative diverse minds enjoying each other's company in a laid back environment engaging with innovative brands. It brought back a feeling of nostalgia and unity. We always talk about how in fashion & history repetition is key and everything always comes "back in style". What we want to focus on being back in style is forward thinking, and sense of community. One of our biggest values and mission. We thank Northside for inviting and having us there and being able to enjoy and support the community of small business and great company. Definitely sparked some amazing inspiration and ideas. We know I we have taken a little bit of a hiatus getting things situated and with some temporary relocation. However , we want to thank everyone for the support as well as expressed interest and are excited to be able to share with you what we have planned for rest of the year as we kick off in full gear.
Learn more about the block party and Northside Festival festivities here: http://northsidefestival.com/northside-2017/block-party/