A few weeks back, the CVG team attended the ever growing Art Basel event in Miami, Florida. Each member gained perspective in their own ways but shared a similar sense of inspiration. Follow us as we revisit our liberation & libations.
Culture & Environment
Felix Vargas_
Absolutely loved the vibe and feeling in Miami during Art Basel. Felt like a place where everyone was welcomed no matter what, it was very non-pretentious. The events were designed and curated very well and the amount of sponsorship was more than what I had expected. Though event ideas were somewhat dated, the overall look and feel of all events were ok and appeasing to the eye.
Britney Wallace_
Being only the second time visiting Miami and the first time venturing out of the bellows of south beach, I was extremely impressed by the artistry and pockets of creativity. Wynwood, the heart of Art Basel, was essentially shut down from most car traffic allowing people to move freely and immerse themselves in artwork, music, vendors, shops, swanky bars, food and so much more. You can tell this city takes pride in this weekend and it open to contributions, collaborations and partnerships to the point that I ended up networking with a handful of individuals from the NYC and greater Philadelphia area.
Overall, I would recommend that anyone who is interested in checking Art Basel out, to do so. Although it is noticeable that the native originality is somewhat muddled by the growing popularity, the experience will be unique and fulfilling nonetheless.
Aya Mohamed_
There's a vibe in Miami like no other, especially when Art Basel is happening!
A similar sense of Bourbon St in Louisiana, where the streets are filled with dancing, creative individuals, expressing themselves to tunes of music, and tones of color.

Art Basel, was a great trip for CVG, as we got to meet artists, mostly native to NYC and the TriState area, ironically. Many artists I admired were there showcasing for the first time, after years of frequenting Art Basel. The one thing I kept asking them was how does it feel to be showing your artwork versus looking at everyone else's. And the responses were the same thrill and excitement one would hope to have showcasing their creativity. It was such a thrill to see so many female artists, artists of minority and first time artists , being the norm , as Swiss Beats would reference, in an art scene that isn't always welcoming of our kind.
Catherine Buccello_
Culture: Laid Back Vibes, Miami has a very south beach flashy vibe Wynwood has a complete different vibe where it resembles the new millennial feel not putting on a show for anyone and being comfortable and creative. The culture feels like creative people walking around expressing themselves and enjoying art and life.

Environment : Open and free, pretentious feeling is non existent feels like art for us, modern, vibrant expressive and able to speak to and interact with the art and the artist without feeling out of place and fine art for the rich. Brands have a way to directly connect with consumers and activate themselves in a way that feels like appreciation and possibilities.
Favorite Artist or Artwork
Ashley Kay - Her art was simple but the colors she used, with the blend the texture and the visual for some reason spoke to me. it was very different from the majority which seemed to be a theme of owning blackness which i loved but i could tell she was from mixed decent and she only knew how to really express and find herself in her art. in speaking to her she mentioned how long it took her the courage to put herself out there and this is the first showing she was doing and to do it in Miami during Art Basel now thats huge leap! When we asked her what her muse was her response stood out to me although it felt more targeted towards a friend. Mushrooms. They can grow anywhere, including dead environments. It hit home because it basically entailed that no matter what situation you end up in started in or find yourself in you have full capabilities to grow
One of my favorite artists that I experienced was a NYC native, Tatiana Camice. Reasons being is that the extent of her creative ability was so diverse, I was impressed by the mixed mediums (whether stone coasters, pins, mugs, canvas) to the soft brush strokes and strong sense of detail in her work. I purchased a couple of things from her which included a pin of a African American woman, natural hair flowing with the words "Black & Unbothered" on a yellow fan. I've always been a fan of simplicity yet intricate design and I was very impressed by her catalog.
My favorite artist had to be a street artist we bumped into named Logic, with his collection "Are you Dying?".
Not only was his artistic hustle admired, but his fluidity in explaining his work was truly appreciated.
I loved the Helicopter at the Walls. It showcases the oxymoron of life - we are always in the fast lane trying to be on the go at all times meanwhile everyone else is just chillin' and in your way. The cat represents how nonchalant other people are.
Favorite Event
It was unanimous...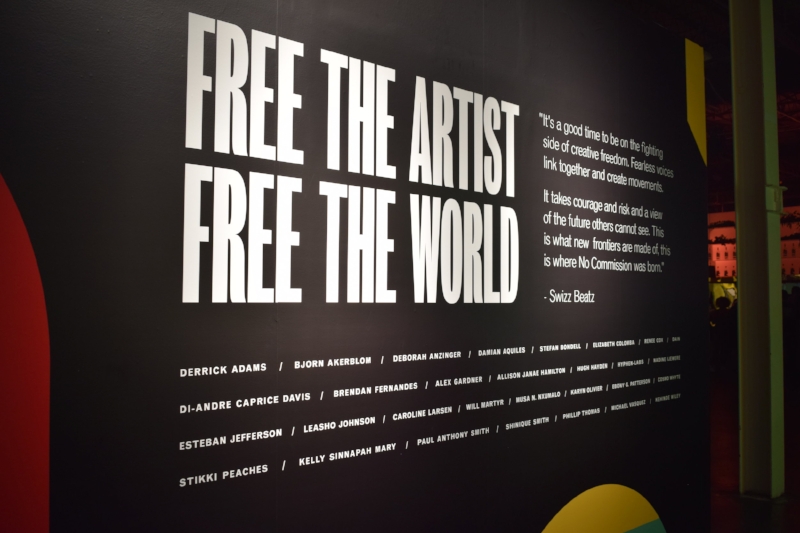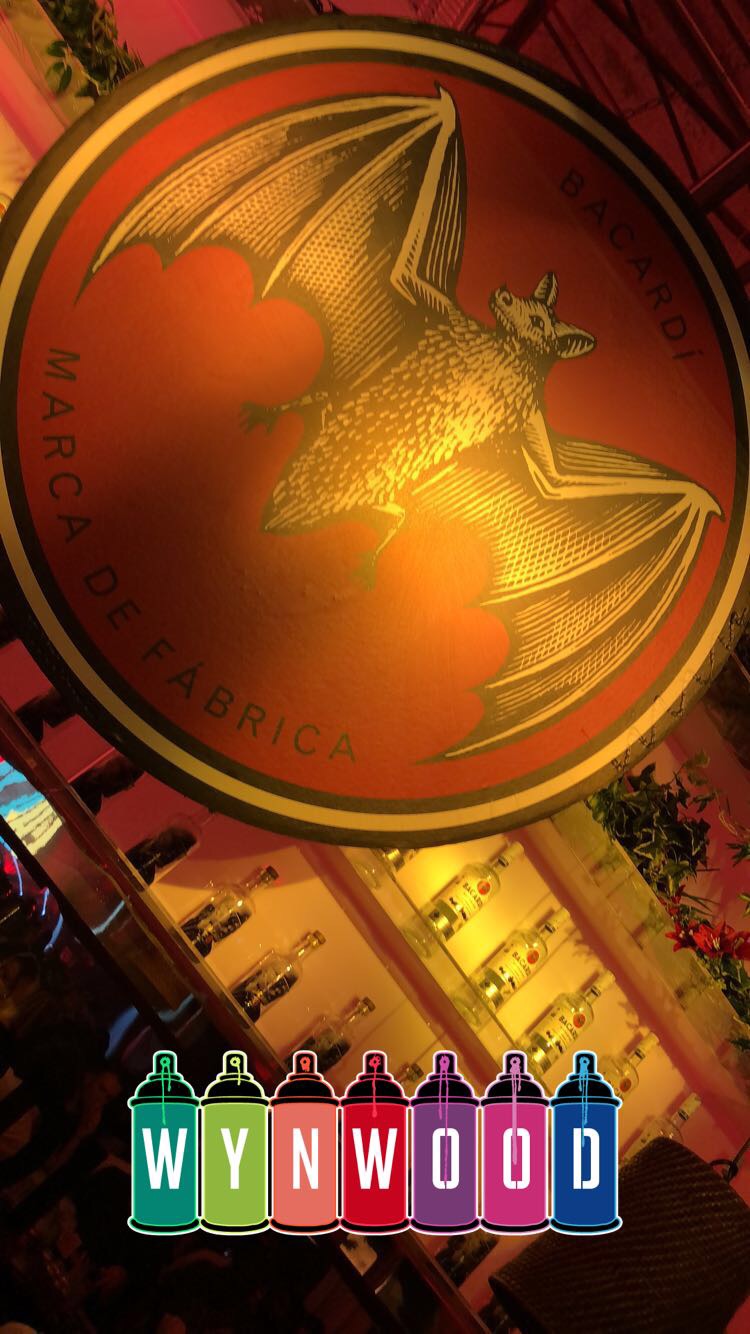 Catherine - Unanimous No Commission, granted i have been to the one in the BX which i enjoyed more because it had an outdoor feel with the art strictly inside (and the AC lol) and it had a ride element and food trucks which this one did not have. it was still an amazing experience in a different way. There was other elements to experience like an airbrush fake tattoo station, VR, art was as soon as you walked in, you had some outdoor space, amazing surprise performances, Swizz walking in the crowd, and open Bacardi bar. the vibe felt more curated this time around giving extreme Miami old cuban vibes
Britney - Swiss Beats "No Commission" event definitely provided the best trifecta of music, art and environment amongst all the events we attended. Aside from it being a free admission and an open Barcardi sponsored bar, there was a great variety of artwork on display, temporary tattoo and VR vendors to experience as well as a dance floor/stage area where acts such as Busta Rhymes & 2 Chains and Swizz Beats himself performed. Most of the people who attended until the very end, same as us.
Aya - The No Commission event by far was one to be remembered. It was thoroughly executed from the entrance, artists, music, and most importantly the message. That art should always be accessible from everyone for everyone. There was a sense of unity from all the guests that I haven't felt from an event . We were all free to be as we please , and yet all equally unified for a greater cause.
Felix - No Commission. Great energy, great layout and flow.
Inspiration & Main Takeaways
Felix_
The level of collaboration was very inspirational. There was a sense of community which we sometimes do not see in NYC.
Aya_
Roaming freely exploring Wynwood, dancing to music, watching artists create right in front of you, and enjoying the plethora of events accessible to everyone is really a trip to remember.

Can't wait to be back next year!
Catherine_
"For the Artist By the Artist With the People" was a saying that Swiss used and it really stuck in my craw felt like FUBU and solange and the way minorities as a unit really came together in this tragic year. It felt like such a terrible year around us but our community within started to become united almost as if it was a necessary evil to bring people together. since CVG mission is to develop a sense of community amongst the side hustle gen and the misfits it gave me more of a push to encourage and even create and fix my own personal and professional relationships
Britney_
Simply put, my main takeaway is to become more intone with who I am and what I do. Being a black woman in tech and design, I was inspired to look more into the NYC and experience more of what it has to offer. This includes things like taking advantage of the winter season by attending more museums or local galleries or getting more involved in tech groups and create meaningful relationships with like-minded individuals.
Check out the gallery below for additional select artwork: